Gold rallied to the highest in almost five months, breaking through a key technical level, after the U.S. launched a missile strike against Bashar al-Assad's regime in Syria after his government was said to have used poison gas to kill civilians.
As part of a rush to haven assets such as oil and the yen, gold climbed as much as 1.4 percent to $1,269.46 an ounce by 10:45 a.m. in London, the highest since Nov. 10. It broke through the 200-day moving price average, indicating upwards momentum. The metal is heading for a fourth consecutive weekly rise and has climbed 10 percent this year.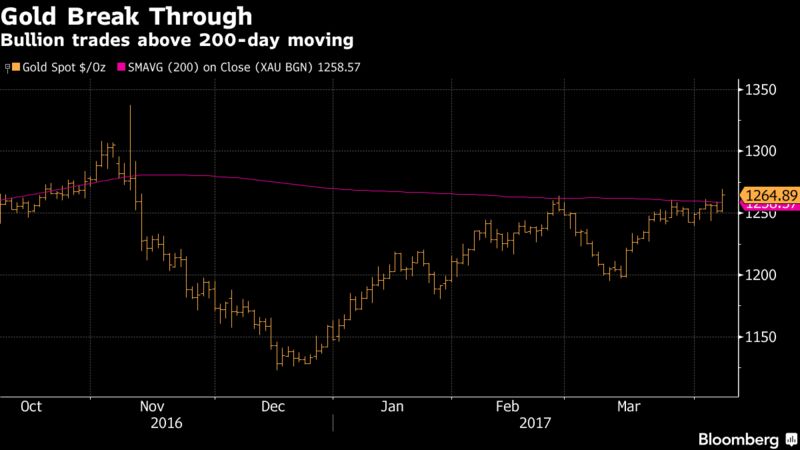 The decision to strike Syria marks a reversal for U.S. President Donald Trump, who during his campaign faulted past leaders for getting embroiled in conflicts in the Middle East. Secretary Rex Tillerson told reporters that "steps are under way" to mobilize a coalition to remove Assad, a Russian ally. The American attack was condemned as an"act of aggression against a sovereign state" by Russian President Vladimir Putin.
"There's clearly an element of risk aversion in the market, so you have buying of gold," said Georgette Boele, a currency strategist at ABN Amro Bank NV in Amsterdam. The metal has been close to the 200-day moving average for some time and "needed something like this to break through. This could be the beginning of a new positive phase for gold."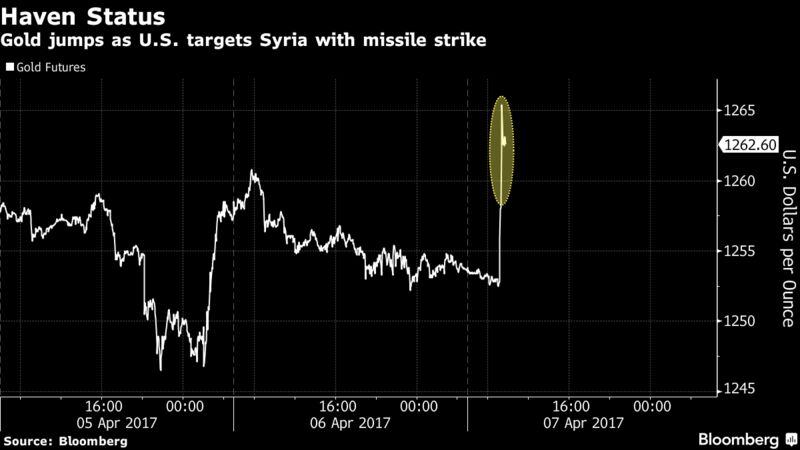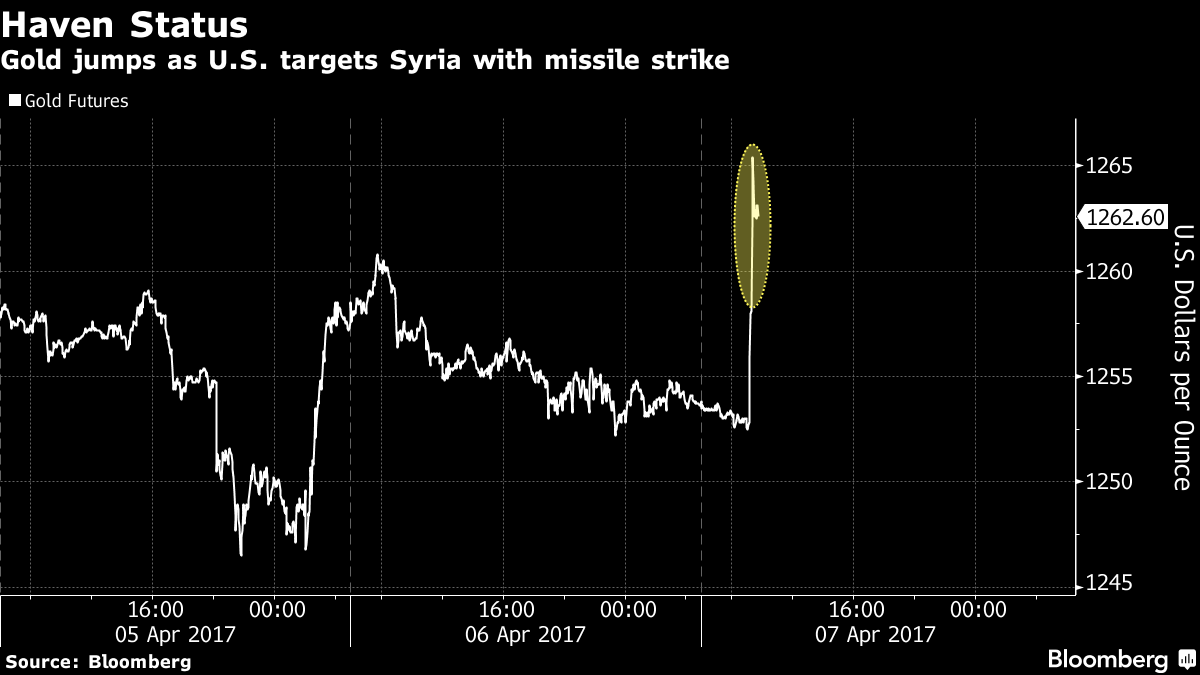 Miners were boosted by the rise in gold with Randgold Resources Ltd. leading the U.K.'s benchmark FTSE 100 Index today with a 2 percent rise by 10:16 a.m. in London. AngloGold Ashanti Ltd., the world's third-largest miner of the metal, climbed 2.4 percent to 168.37 rand a share in Johannesburg. Melbourne-based Newcrest Mining Ltd. closed up 2.8 percent in Sydney.
The U.S. action — with the Shayrat Airfield struck by 59 Raytheon Co. Tomahawk cruise missiles — followed the gas attack in Idlib province earlier this week. Announcing the strike, Trump said: "There can be no dispute that Syria used banned chemical weapons." Syria has denied responsibility.
Haven Role
Bullion acts as a haven during times of geopolitical conflict. Prices have also risen this week amid signs of escalating tension on the Korean peninsula, with North Korea conducting a ballistic missile test in the run-up to a summit between Trump and Chinese President Xi Jinping.
Other precious metals also rallied in the wake of the strike. Silver jumped as much as 1.2 percent to $18.479 an ounce, the highest level since Feb. 27. Platinum rose as much as 1 percent, while palladium gained as much 0.5 percent.
"The situation in Syria continues to deteriorate, with news of a U.S. missile strike," Jordan Eliseo, chief economist at Australian Bullion Co., said in an email. "It's no surprise for gold to catch an immediate safe-haven bid."